To display or not to display? To organize or not to organize? That is the question. Once LEGO finds a home in your home, sooner or later you'll be starting to think about how to display, store, or organize that multi-color treasure-trove. LEGO organizer ideas will come in handy.
I still remember (and have!) the first plastic heavy-duty tool box that I got for my early collection of LEGO pieces, magazines, and instruction booklets. That tool chest of LEGO was my pride and joy, and it managed the task well… for a while. You might be able to guess the rest!
Let's take a look at 4 things to avoid during LEGO organization, as well as some solutions for display and storage. Surely you don't want to be wasting any precious LEGO-building time by fumbling around and searching high and low for that single element that seems to have gone missing! Nor is it an edifying thought to consider what may happen to your labor of love, if calamity were to strike it to pieces.
So let's get you sorted!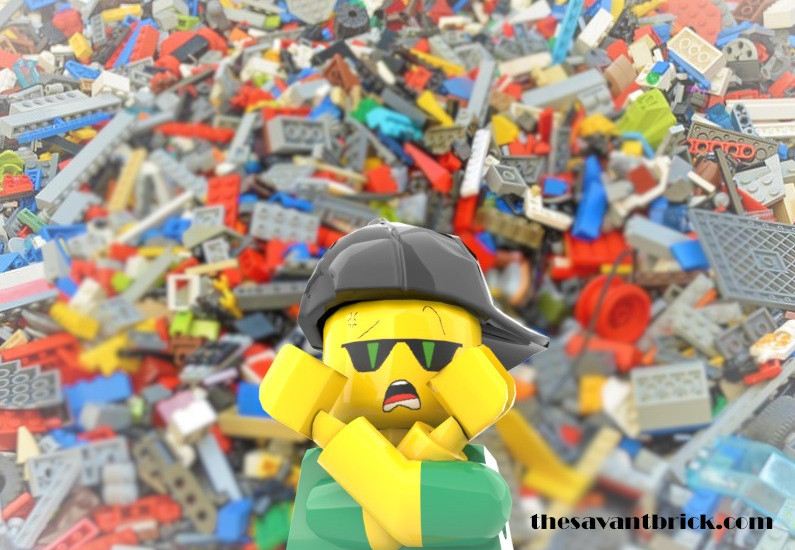 #1. Avoid the Boxy Big Bin Approach.
Admittedly, this strategy works just fine as a quick clean up and on-the-fly storage method. But if you're serious about keeping LEGO around for the long haul, you may quickly find that this simply won't do.
If you repeatedly and haphazardly throw all of your LEGO bricks into a bunch of buckets, as your collection develops, so will the difficulty of finding a specific piece. This is particularly true if your big bins are deep and require digging around to locate that piece. Keep your storage solution containers at a shallow depth.
I guess there is one good thing to say about this storage technique: at least it provides ample opportunity to hear the pleasant clinking sound of all those different LEGO brick varieties!
#2. Avoid the All-In-One Approach.
Avoid storage systems or storage products that stake their value on providing storage and sorting simultaneously. Such a system would claim to allow you to drop your bricks into a container and shake it in order to "sift" the smaller parts out into their own special container. The disadvantage to storage products using this all-in-one method is the limitation: part size.
For example, if you're looking to migrate away from the big bin approach, it is likely that some of your LEGO pieces are aimlessly stuck together in all manner of weird ways. These "larger" parts will not be properly sorted in this method, creating more work for you later.
Additionally, sorting out LEGO pieces by size is not particularly helpful when you're searching for a specific part. A 1×2 tile (or 1×2 plate) is roughly the same size as many many minifigure accessories. And that is just one example of how heaps of totally different parts could get mixed together in this convoluted sizing method.
Psst, pro tip: unless you don't mind a very long and unrewarding task, sort by shape more often than color or size!
#3. Limit The Furniture Approach.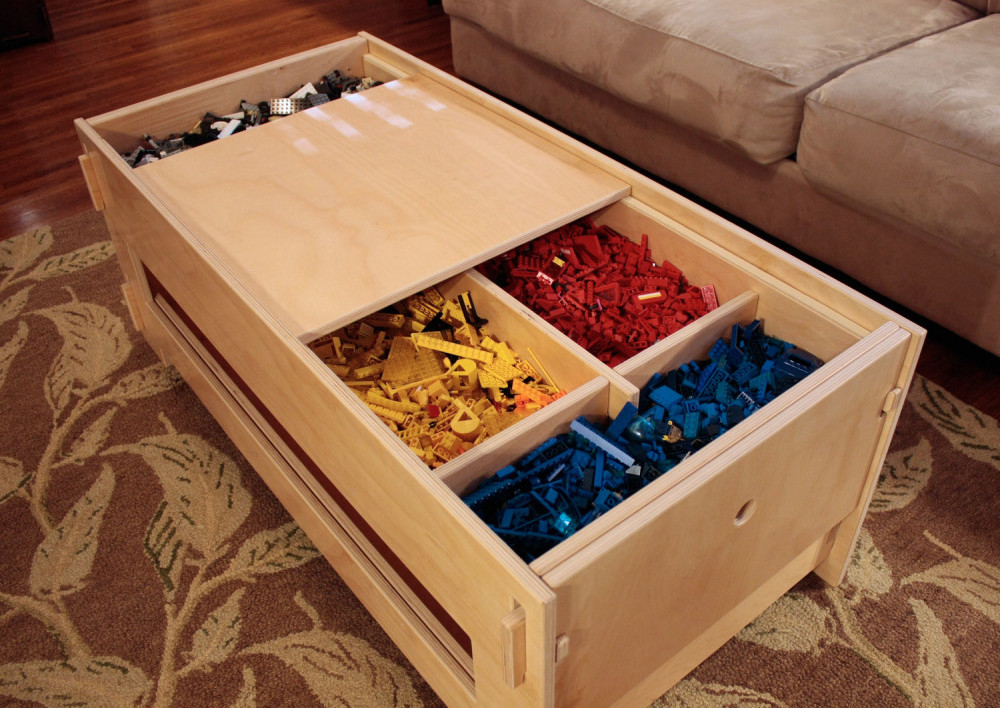 It goes without saying, LEGO collections and personal building interests change. And unless you are absolutely adamant and resolute that more LEGO shall NOT be added to your assortment, avoid the furniture storage method.

With that said, a table like Exhibit A is not bad at all, since you have the option of removing the LEGO and using it for another storage purpose entirely.
However, Exhibit B is what you should shy away from. The limitation in storage and organization space, as well as the limited surface area (which has been dedicated exclusively to LEGO building) limit what can be done with the furniture.
Even more importantly, it unintentionally limits your mindset! It would be all too easy to see Exhibit B and try to fit a collection within that framework, in other words: "it must fit within the table!" Or "you must build on top of the studded LEGO table instead of somewhere else"!
Not very fun in the long-run.
#4. Get Away From The Set-Focused Approach.
It is not a terrible crime to sort by set. But as your LEGO collection grows, this method can become very restricting.
Keeping sets "together" or keeping a set's pieces organized "together" can inspire the temptation to fear "losing" the set if you let the pieces scatter freely in your own creations.
I get this very well, because that is a tendency I had and still have. I MUST know where all the pieces are to any given set, so that I can easily build it again!
Of course, this is not bad in and of itself, especially when there is a favorite set you want to keep intact (or easily reassemble). But resist the urge to let it stifle your usage of the LEGO pieces in your own creations! Do not imprison your bricks and pieces in designated ziplocs for all eternity.
The Best Way To Display LEGO?
Who can say? The imagination is the limit, I say!
But if you desire to add some premium (and stylish!) protection to your special models, definitely check out Wicked Brick Display Solutions.
Wicked Brick not only crafts custom cases, wall mounts, and display stands for LEGO creations, but also for a wide variety of vintage toys and pop culture collectables including Funko, Hot Toys, and more. In addition to a first order discount, check often for other sales and offers, as well as promotions! Order early, because they currently estimate shipping lead time to be approximately 20-30 days from date of purchase.
LEGO Organizer Ideas – Storage Recommendations.
I briefly took a look at sorting and storing LEGO in a previous post as well, so let's just quickly recap.
Ultimately, what you need depends on you and your situation. One size fits all simply does not work with LEGO. But here are a few last considerations for small to medium-sized LEGO collections!
---
Have fun finding deals on storage solutions. Affiliate links can be found in this post. At no extra cost to you, making a purchase through them helps support this site. As an Amazon Associate I earn from qualifying purchases.
Preview
Product
Found On
Description
Sterilite Sliding Plastic Drawers
All Available on Amazon. Click to see current listings.
Offers modularity, which also permits easy expansion and repositioning. The clear variety allows easy visibility of parts even without pulling the drawer out.
Iris Drawer Storage and Organizer chests
—
Available in a

variety

of colors and price points. Options available include a 3-drawer or 5-drawer arrangement.
Really Useful Boxes
—
Stackable, and the latched lids make them easy to handle and maneuver. Reviewers also praise the robust quality and durability.
Akro-Mils 44 Drawer 10144 coupled with "earthquake straps"
—
An excellent and professional solution for sorting and storing tiny, miscellaneous LEGO pieces.
SlideAway Toy Storage Organizer & Play Mat
—
A great 2-in-1 solution if you are trying to get your kids to tidy up their LEGO when finished for the day, as well as have a place to play.
The Official LEGO Shop offers more LEGO-themed storage ideas. Also be sure to check eBay below for sales on other slick, inventive, and pre-owned storage container solutions, while listings last —
Note: In some posts (like this one), I focus on items offered within a specific marketplace – such as eBay or Amazon. When you use the links on this page to make a purchase, I may get a small commission that helps support this site, and you may get a great product. It's a win-win all around. I've endeavored to present the best deals that my affiliations offer, so shop through one of the affiliate links above to find what you're looking for! Thank you for supporting this site.
---
So whether it be to stuff everything into a bin or box, jam everything into a room, let it take over, or something else entirely – what's your "strategy" for keeping and displaying your LEGO collection?