If you are looking for a solution to store your collection of LEGO people and not seal them off from spontaneous access, then a dedicated case may be the ideal option for you. Who wants a damaged, missing, or dust-ridden collection? Not me! Most likely, that is not appealing to you either, reader. So here are the best LEGO minifigure display cases that will help you free up space and look stylish while doing it.
Best LEGO Minifigure Display Cases for Stylish Organizing (Updated List)
Why You Should Get a LEGO Minifigure Display Case
I've personally never been one to display my LEGO minifigures. They were always too busy doing stuff all over the place!
But if you have ever collected LEGO sets (or have someone who does!), then you know how not only the bricks and models require space, but also the growing number of those marching little LEGO buggers.
Once it gets to a certain point, if left unchecked, the process of organizing and storing can not only be very time consuming but also could cost you more money if you resort to quick fixes that don't last long. By investing in a quality display solution, this will save you time, money, and the potential remorse of LEGO gone missing.
It is easy to find cheap display cases that may end up being flimsy or not properly sized for longevity. A dedicated LEGO case (or one adapted to be so) is MUCH more productive and functional, so you end up with less trial and error.
If you want to go the extra step after saving yourself the trouble of procrastinating about storage, you can use the extra time, funds, or whatever else for… (can you guess?) …more LEGO building, of course! Which will in turn lead to more good times.
Howdy reader! If you wish to help support this site and future content, please feel free to shop through the affiliate shopping links in this post. Thank you. As an Amazon Associate I earn from qualifying purchases.
Check Out Some Other Options:
Consider a Shot Glass Display Case! These units already come assembled with divided compartments (typically over 25 slots), and a hinged glass door for access and visibility. If you have oversized LEGO figures, this can be a good option if you would also rather not fuss over modifications. Plus, a shot glass case can be a very slick complement to other décor. If you do a bit of searching on eBay or browse on Amazon, you can find very inexpensive options available.
---
Consider fashioning a hinged Shadow Box! You decide the orientation of the unit that you create, if it will be mounted on a wall, how it will be mounted, and the size of each LEGO minifigure compartment. Do note that this option works best if you have a surplus supply of LEGO bricks (and are willing to glue them into the display case). A very unique and customizable solution overall. Check out Learn 2 Play for DIY display project ideas.
What to Look for When Buying a LEGO Minifigure Display Case
Everyone has different priorities about what is important or not when getting a display case, but I want to offer my opinion on the most important things that a LEGO Minifigure display case should have.
I. Ease of Access
When setting aside time to organize and show off your collection, you want to ensure that your chosen display just works without a massive procedure. No fiddling to try and see or access a figure. Open, click, snap, close, done.
II. Expandable Space
Getting a display case design that will fit your current collection, as well as continue to serve it's purpose down the road with is quite a satisfying perk. A good design will easily permit future expansion as you see fit. We all know how once started, a LEGO collection tends to grow!
III. Generic Functionality
Practical functionality can come in handy in the long run. What if you end up upgrading to another case one day, but wish to hang onto your old one. Can that old case be useful for another purpose, or in another project? Try to get a case that will be able to serve another purpose beyond it's initial use.
LEGO Minifigure Display Case Product Reviews
Have a look below to see my reviews for some of the best LEGO minifigure display cases that combine style and function.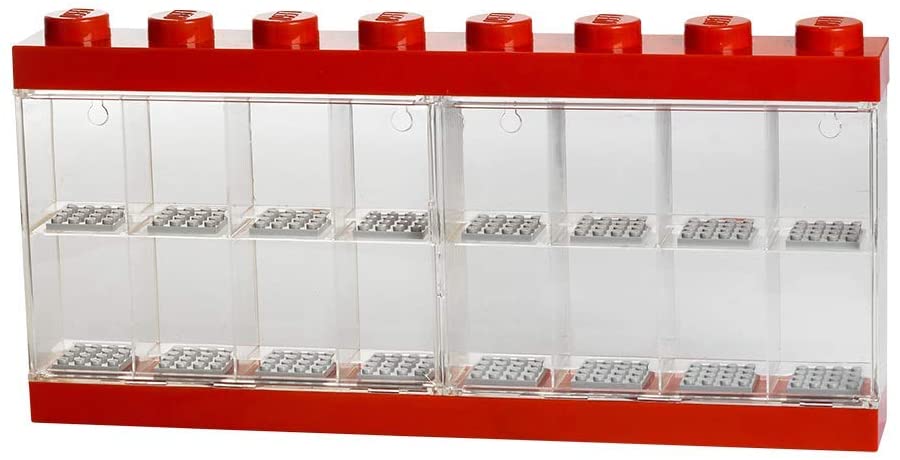 1. Room Copenhagen Lego Minifigure Display Case (Best Overall)
Available in multiple sizes and colors, is stackable, and can be either displayed tabletop or wall-mounted. The front latched cover door can be opened easily to maneuver figures into place. And dust is kept at bay! Grab one or several for a quick, stackable solution.
Pros
Ease of use and portability
Modular design
Easy expansion for growing collections
Cons
Single-purpose appearance
Odd-shaped minifigures will not fit
---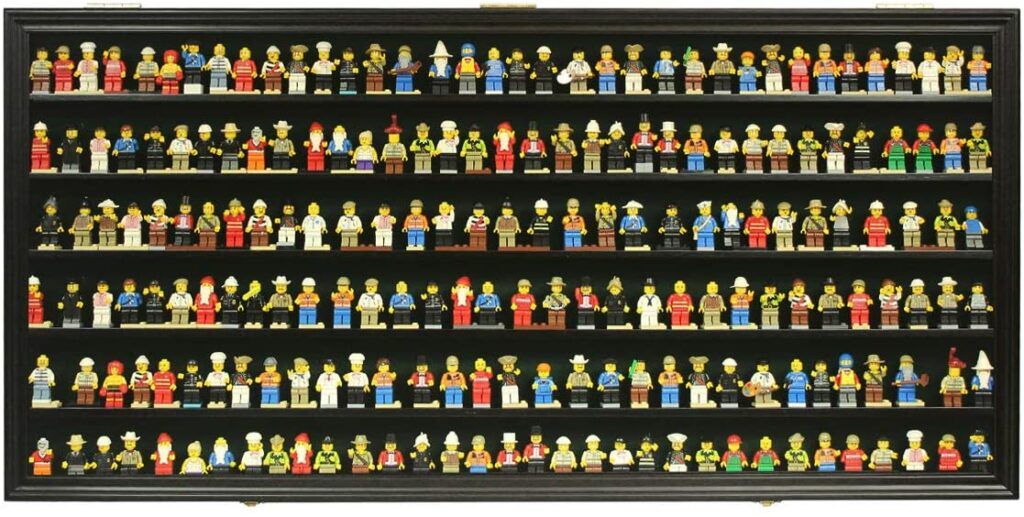 2. DisplayGifts Solid Wood Wall Cabinet Stand 200 (Best Style & Space)
A large, deluxe minifigure display case. The acrylic door is set within a beautifully finished solid wood frame. This large display unit is my personal second favorite of these three, because of the appealing aesthetic, as well as the functional capability of holding 200 or more LEGO minifigures.
Pros
Suitable for large collections
Classy appearance
Effective way to consolidate a collection
Does not require a lot of set-up space
Cons
Must be wall-mounted
A pricier alternative
Customization requires modification
---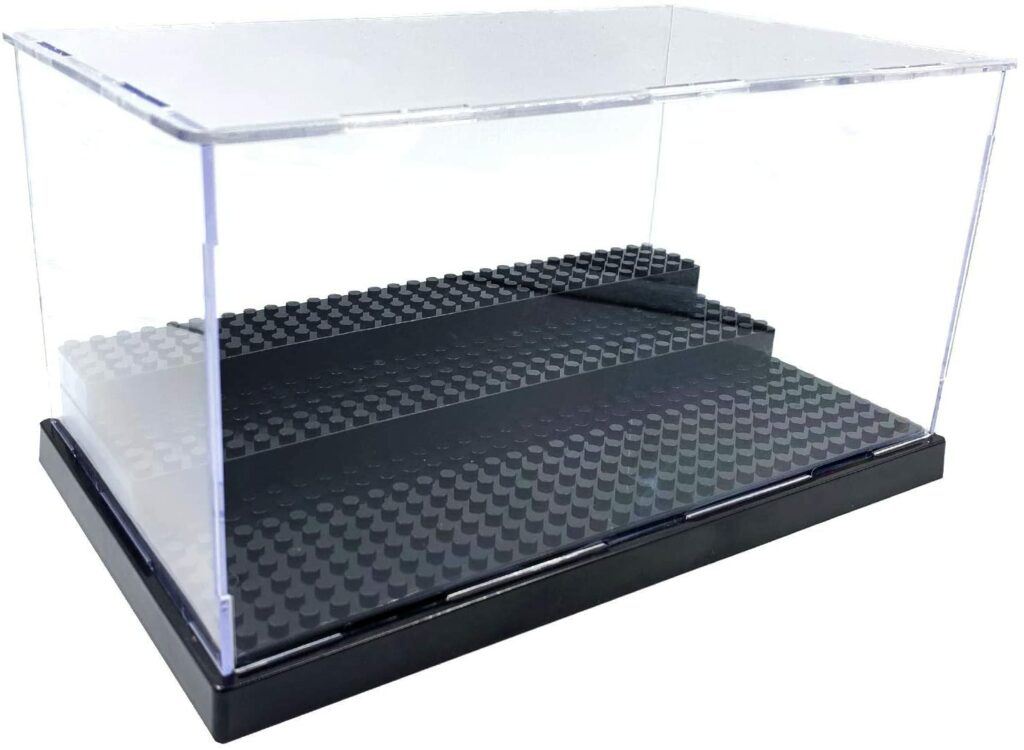 3. X XIN·SHI Display Case (Most Economical)
If you are looking for a cheap, versatile alternative to my other two choices, or if you have a small collection and limited space, then the XIN SHI Display Case is a viable alternative. Nothing really quite stands out in terms of quality or design other than it simply gets the job done.
Pros
Inexpensive and desk/shelf-friendly
Allows display of odd-shaped minifigures
Can hold small LEGO creations
Cons
Baseplate is not composed of official LEGO studs
Not study enough for reliable stacking
Requires assembly
Display Case FAQ's
Here are some commonly asked questions about LEGO Display Cases.
Will These Display Cases fit LEGO Friends mini-doll figures?
No, with the exception of the X XIN·SHI Display Case (whose stepped tiers can be removed), the other two cases will not fit LEGO Friends figures. When looking at the products on Amazon, scroll down to the product details and see their dimensions.
Are the Display Cases Free Standing?
Both the Room Copenhagen Lego Minifigure Display Case and the X XIN·SHI Display Case can stand on their own. The DisplayGifts Solid Wood Wall Cabinet Stand 200 requires support or a wall mount.
Are the Display Cases BPA, phthalate, PVC free?
Yes. However, I cannot ascertain the material of the X XIN·SHI Display Case baseplate. If you are concerned, I would recommend you contact the manufacturer.
Wrapping Up
So there you have it – that concludes my suggestions of some of the best LEGO Minifigure Display Cases. Though I quite fancy the sleek aesthetic of the DisplayGifts Solid Wood Cabinet, when it comes to overall portability and ease of redecorating, my favorite case is the Room Copenhagen Lego Minifigure Display Case .
If you have any questions about any of the units listed here, please visit each of the Amazon listings since most questions are answered there on the product page.
Go show off your collections, LEGO maniacs.
}B^ ]