Hey! You likely already know that LEGO is used in many ways, from education to science to good ole' fashioned child's play. But did you know they can also be used for LEGO tabletop gaming?
The brick-building landscape is a perfect platform for setting up and enhancing adventures of the imagination, and in this post, I'm going to help you get started!
Can You Really Use LEGO for Tabletop Games?
You should know better than that, asking such silly rubbish around here! But I'll let it slide… after all it's been a while, reader. So, let's dive back into the bricks without any ado, and let's review this most intriguing application of the LEGO system.
I've had a spectator's knowledge of tabletop role playing games for a while, and have traditionally been more acquainted with the videogame variety of RPGs, but… If you think about it for a moment, it makes sense on so many levels. LEGO has always been about creating worlds, adventures, and stories. It's what DnD (aka "Dungeons & Dragons") and other tabletop games have in common with the world of plastic bricks.
On top of that, LEGO offers a slew of advantages over buying ready-made miniatures. You're only really limited by your creativity and ability to snap a few pieces together into a cohesive whole. And that's something that you can share with your party besides the slaying of goblins and gathering loot.
Is it Better than Buying Miniatures?
Everyone has their tastes and rationale about how to craft miniatures, but unlike what diehards would have you believe, there's no hard-and-fast answer to this question.
You may understandably want to jump right to snatching up all the needed LEGO elements, but let's not be too rash, hasty reader! There are pros and cons to using LEGO to run tabletop adventures, as with all things in life. Let's start with the downsides, so we're not playing favorites here (…well, at least not *too* much).
Legos Ain't Cheap – Con #1
For starters, don't think for a second that LEGO is a cheap stand-in for miniatures. They're some of the most expensive toys money can buy, especially when you hit up official shops. Things get even crazier when you're looking at rare sets and pieces on second-hand platforms – Lord eBay, have mercy. That's why it can be very advantageous to diversify your LEGO shopping; go here for some tips.
Of course, Dungeon Masters on a strict budget have many cost-efficient strategies to utilize, such as using minis and terrain created from simple household/craft-store mixed-media. But we're talking LEGO here! So if you've kept the bricks around from previous ages, or know someone who has, then you already have at your disposal the opportunity to tap into a deep well of crafting potential. If your friends fortuitously also share a knack for LEGO, pool your resources to save costs and get a jump-start into your DnD games.
Not Great for Realism – Con #2
For those who crave painting and more traditional miniature sculpting, LEGO may seem too basic… at first glance. Moreover, they don't make for realistic settings… unless you want to go full LEGO maniac and prepare to seek out huge quantities of LEGO pieces and elements to lavishly fill out your world.
If you prefer your party to be terrified of the massive dragon you just brought into the fray, then one built with basic bricks likely won't cut the mustard. It's a bit of an immersion killer for purists and folks who don't play well with whimsy. But with that said… take a look at this beauty:
Grids and LEGO Don't Mix – Con #3
More importantly, LEGO figures don't always play nice with grids. They're bigger than the single-inch squares most standard DnD maps offer and will make things clunky if not specifically planned for. Bulkiness will probably not be a deal breaker if you don't use set grids, but otherwise it is something to keep in mind when looking to integrate LEGO.
On the flipside, in the humble and salty opinion of Talm here, the advantages of using LEGO for your tabletop adventure games far outweigh the negatives. Hopefully the diehards don't have a meltdown.
Customization-palooza – Pro #1
The most obvious plus are the near-infinite customization possibilities. Figures exist in so many different varieties and flavors it'll make your head explode. Need to make a knight character? It exists. Prefer something of the stealth assassin variety? Again, spoilt for choice.
And with all the mixing and matching you can do with the various heads, bodies, legs, and oodles of accessories, you're never going to struggle to make the adventurer or abomination of your dreams.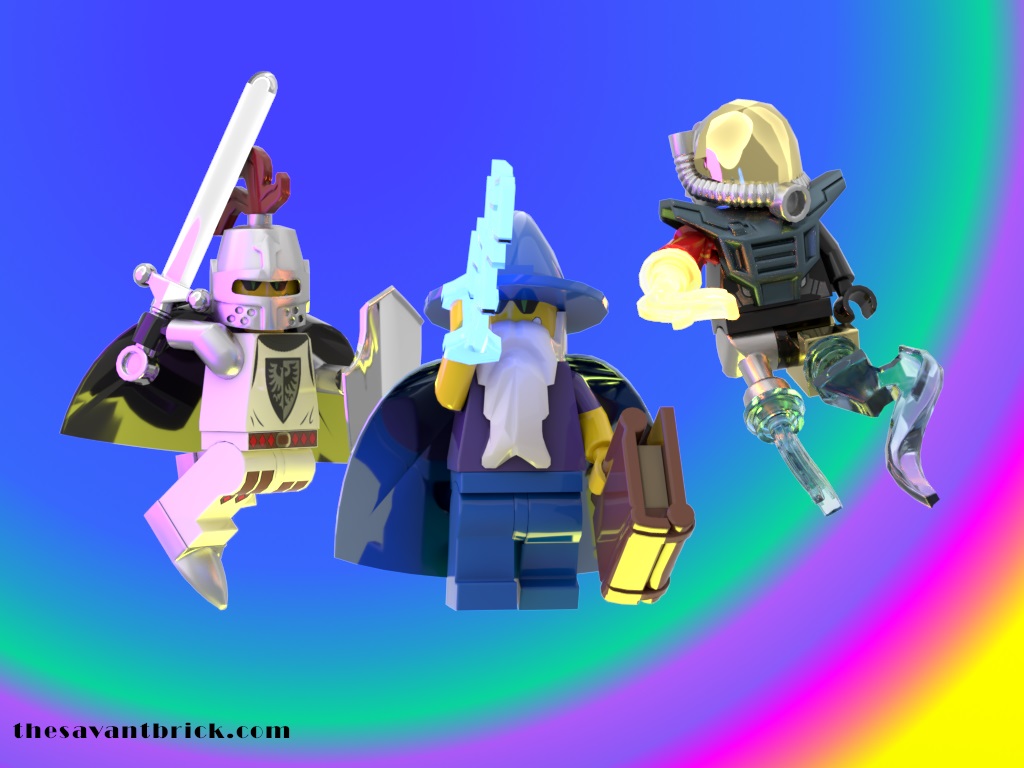 Use What You've Got – Pro #2
Furthermore, you can likely get started making LEGO games right now. Tabletop RPG'ing is a pretty niche hobby when compared to other forms of entertainment. But LEGO? Nah, not really. You and your friends probably have some dusty boxes filled with bricks and figures already lying somewhere around your house or your parents' basement. Dig them up, and you'll definitely find more than a few pieces in an old collection to kickstart your game's visuals.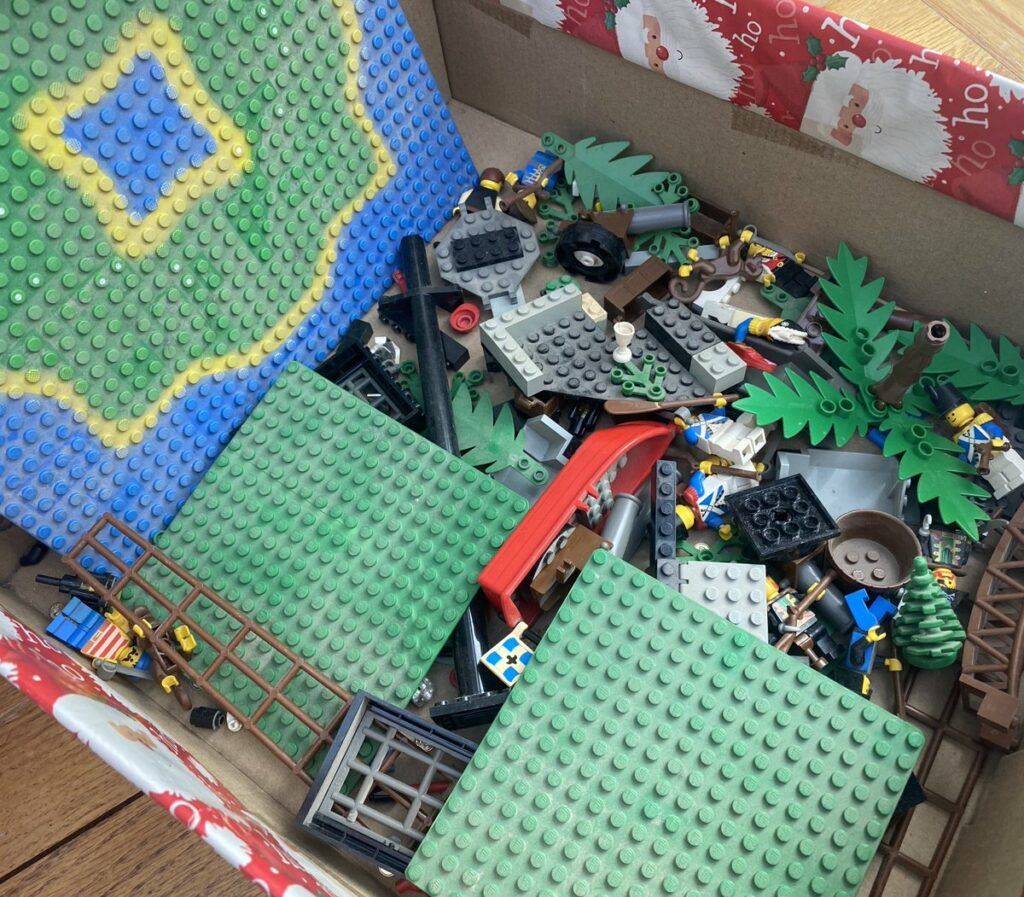 Gear Up On the Fly – Pro #3
What LEGO also has over more standardized tabletop miniatures are removable pieces. These allow you to have accessories representing loot and gear upgrades. Start with your plain figures, then tack on items and abilities as you defeat boss monsters and gather armor and weapons. It's a perfect way to add excitement through highly visible and interactive progression.
Build It Your Way – Pro #4
Last but definitely not least, when it comes to modularity, custom standardization, and ready-to-go, ready-made components, LEGO will allow you to conveniently make some of the best tabletop game settings ever. It's also where they beat out other options in pricing (not to mention you're already far more likely to already have LEGO stashed away than you are to have lots of specialized DnD minis lying around).
If you want to make an interactive dungeon or landscape with tons of detail, high ground, and décor, LEGO will beat out standard DnD miniatures any day of the week. Building your world with LEGO allows you to establish the atmosphere of your world with a few snaps of the almighty brick. All you need is a bunch of bricks and the aforementioned noggin.
What is a Tabletop Game?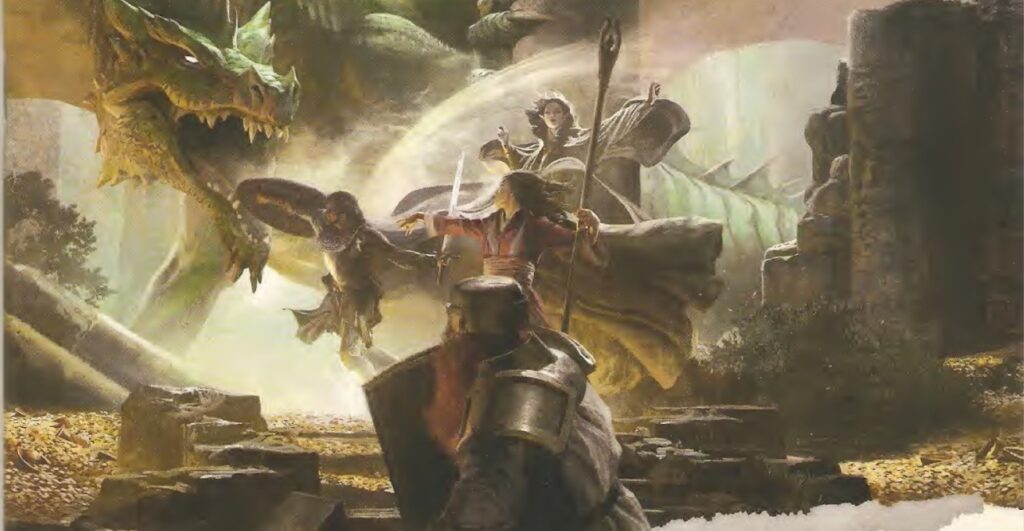 So wait… Stop the tape! Pause. Some of you dazed and bewildered readers may have been asking since the start: Talm, what even is a "tabletop RPG"? Okay, I'll accommodate.
For the most part, a TTRPG (tabletop role playing game), is an interactive story revolving around a specific scenario within that story. The scenario – which is typically comprised of scenes – is played out as a game. The game – when adequately detailed – is divided into sessions, during which the game's players convene to assume their roles. Taken altogether, the sessions amount to what is typically referred to as a campaign.
In preparation for and during the campaign, each player creates a character and assumes the role of that character within the world of the (oftentimes) cooperative game. The characters and settings of the fictional world are created using miniatures, which can be sculpted, painted, or in this case – built with LEGO! During each game session, a director-like person known as the "dungeon master" (DM/GM) serves as keeper of the rules and the flow of the game-world's story and scenes.
That's the barebones, cut-and-dry of what a tabletop game is. I'm no expert. But, I imagine you can now see how combining LEGO with the TTRPG format is a superb match. We good? Then let's continue on.
Where to Buy LEGO for Tabletop Games
Hey there reader! If you would like to help support this site and our ability to keep the LEGO fun coming, please shop through the affiliate shopping links in this post. At no extra cost to you, making a purchase through any of them contributes to keeping this site ad-free. As an Amazon Associate I earn from qualifying purchases.
Okay, I see you biting there, ready to give LEGO a try for some tabletop adventuring. You've probably even raided your childhood bedroom for your long-forgotten brick stash by now. Now, you'll probably want to expand on it a bit, but how?
As stated earlier, your coffers need to be bountiful if you want to go the full money with LEGO for tabletop games. It's especially true when buying new from official shops and toy stores. However, there is a saving grace: websites such as Bricklink and second-hand sellers on eBay and also on Amazon.com. You're bound to find some steals.
These sites have parts and pieces from almost every set in existence – and BrickLink has had an excellent search catalog for many years now. You can search and browse by category so you can identify the desired part and fill out whatever's missing from the quest you've been preparing for your friends.
If, despite all the existing variety out there, you still can't find the perfect mage's hat, then check out sites like Brick Warriors. For a higher price, they make custom bricks, weapons, armor, accessories, and other pieces that can't be found in official LEGO sets.
What I'll caution, though, is not to go overboard. It's super easy to get caught up in the excitement and convenience, to find yourself drained of funds. Remember that even if you don't have the perfect pieces, part of the LEGO fun is using your own imagination.
Best LEGO Themes for Adventure Games
With its storied history, LEGO has been through the gamut of themes, both fictional and non-fictional. From humble pirate sets to full-on Death Stars, LEGO has a way of turning the iconic into a full-blown collection. For better or worse, we even have official Super Mario sets now, for brick's sake. I have my reservations about that, but it is what it is…
Anyways –
Whether you're running a traditional fantasy DnD campaign, a run of Cyberpunk, or even Vampire the Masquerade, there are sets and themes out there with pieces and a plethora of accessories to fit any genre, such as the following:
Nexo Knights – Perfect for futuristic Warhammer 40k-like characters
Ninjago – Great for both oriental style adventures and assassin characters
Fantasy Era – As it says on the tin, it covers all things myth and fantasy
Castle – Tons of pieces ideal for making forts, dungeons, and classic medieval structures
Need Some Inspiration?
If this all sounds good, but you're still unsure what to build first, then check out what other people are making. Communities like r/legodnd are packed with enthusiasts who share their LEGO tabletop creations with the world. Apart from ogling at the incredible build shots, you can post your questions and dive into discussions to get your creative juices flowing.
What are you still waiting for? Start thinking about your next adventure, maniacs.
Here are some closing pointers about what you may need to prepare for your quest:
Rest assured, a plethora of items and tools exist that will serve you well in creating a roleplaying adventure. But for now we'll only highlight a handful of tangible, indispensable, and "most basically basic" items to get started.
Starter Kit: Pick up something that covers the basics when just starting out. The Lost Mine of Phandelver is a well-received tutorial for new players who may also be interested in DMing. This kit can be found for under $20 bucks on Amazon.
Dice: Yes, you'll need many! If you're not looking for anything fancy, search for "gaming dice" on Amazon to find a large variety available for under $20 per pack.
Minifigures: No kidding, right? This will probably be the most expensive part of your material gathering, if you choose to go outside your own collections. The LEGO Minifigures Series are an excellent way to source characters, ideas, and specialized LEGO elements. Within each Series of 12, a variety of LEGO figures are offered in randomized polybags, and you can find fantasy-based, mythological, historical, and sci-fi characters up for grabs. This Pack of 6 Minifigures can net you some rare and one-of-a-kind character building accessories.
Monsters: Pick up one of the LEGO Creator 3-in-1 sets (Dinosaurs, Mythical Creatures). These sets alone will allow you to get started creating customized large beasts and other monstrosities. Be on the lookout for monsters in LEGO's superhero set lineups. Additionally, the LEGO Elves line and LEGO Chima also offers viable starting points for sourcing parts and building up your own mythical creatures.
So have you created tabletop adventures with LEGO before? What's been the good and bad in your experience? Where do you want to go next?